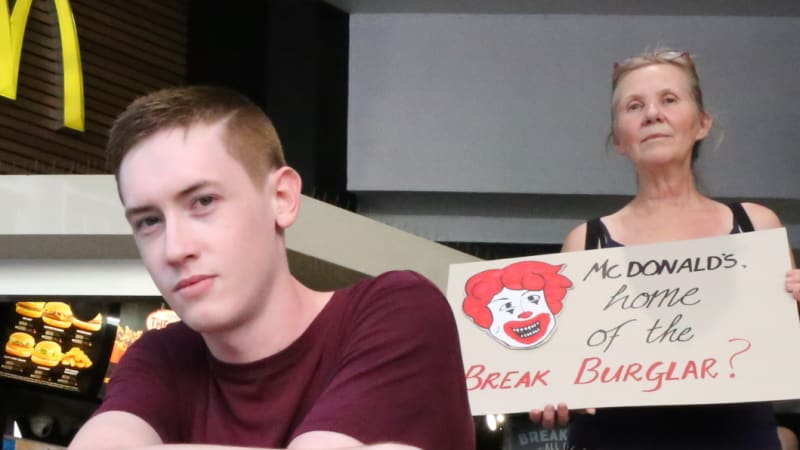 "So I hope you're not thirsty for your next turn, because we will not be able to afford a drink," he said. "The fair is right, right?"
The former manager of McDonald's, Noah Nicholson, left the fast food chain three years ago, saying he was fed up with intimidation against young workers.
"I've been there for three years and I've seen it all," Nicholson said while about two dozen protesters gathered on Friday afternoon.
"Their scary tactics are coming light now, but nobody really knows how bad it was."
He said that the younger staff was "terrified" to raise concerns in case they were fired.
"There was a lot of pressure", Mr. Nicholson
"There were many times when I saw managers not giving shifts to people if they had to take breaks for the toilets."
Union Secretary Josh Cullinan said that the Brisbane franchisee was exploiting young workers who may not be safe enough
"It's a very young labor force, more than 50% of McDonald's workforce in all Australia is under 18 and over 90% is under 25, "said Cullinan. .
"They are denied their rights and when they dare to ask the 10-minute break, which is their right, they are threatened with not being able to drink water."
Upload
The outlets of McDonald's across Australia have suffered union pressures to provide workers with 10-minute breaks paid in line with a condition in their workplace arrangements, after the Union of retailers and fast food retailers said they had discovered that few, if any, corporate and franchise restaurants were compliant with the obligation.
The lawyer Will Barsby said that it was a health and safety problem.
"There is a difference between a legal rest break during the working day and an urgent trip to the bathroom if you need it or the sip of water to keep you hydrated," he said Mr. Barsby
"The risk is that someone does not have enough to drink, gets dehydrated, maybe faint and hits his head, creating a high-risk environment for compensation claims
" Common sense should prevail: a paid break is different from an urgent bath or a sip of water, it should not be the one or the other accommodation "
A spokesperson for McDonald's said that every employee catering has received breaks "as required", and staff with concerns about working conditions may call a dedicated hotline.
"We work closely with our restaurants to ensure all our employees receive the correct rights and pay, "he said.
L & # 39. Affiliate, Tanya Manteit-Mulcahy, and her husband Terry Mulcahy own six McDonald's shops: Brisbane Central Station, Myer Center, McWhirters Building, Wintergarden, Windsor West and Queen Street Mall, which reportedly is the largest McDonald's in the southern hemisphere.
– with Nick Toscano and Patrick Hatch.
Lydia Lynch is a journalist of the Brisbane Times
Most viewed in the National
Loading
Source link